Camping
Mongolia is one of the last countries where you can camp wherever you want.
Our adventure tours explore the most remote regions of the country and we have selected the best camping equipment to make sure you enjoy the best of this wild environment.
Because the success of your trip in Mongolia is also based on the quality of equipment you use on site, we only use recent camping equipment complying with Western standards of safety and quality for your comfort.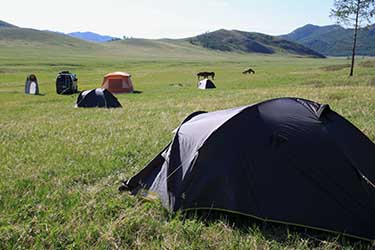 All our camping gear and riding is carefully maintained and checked after each trip, and renewed as necessary.
We use French Decathlon tents for 1 or 2 persons.
For better privacy, we can provide single tents at no extra charge to anyone who registers alone  (on request before departure and subject to availability).
Our self-inflating mattress are especially thick for your comfort.
A large tent hosts table and chairs for meals and moments of conviviality.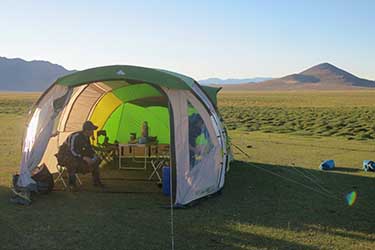 The logistics vehicle also brings the table and the chairs for the picnic lunch (except in very remote regions, such as Naiman Nuur Park, where we use pack horses).
A "shower tent" is also provided. The shower water can be heated on demand on the campfire.
This shower tent is also provided on our "Nomadic Life Tours" because you spend several days in nomadic family.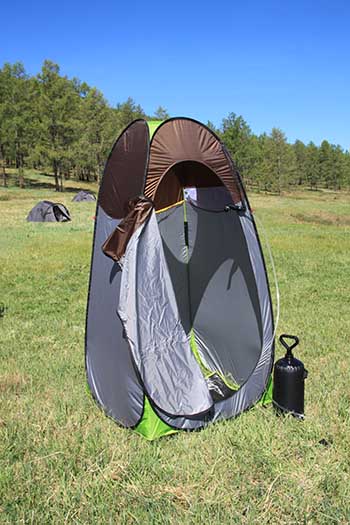 Safety equipment
We attach great importance to your safety , which is why we carry on each circuit a complete safety equipment: filtration pumps to purify the water used for cooking, and a first aid kit ...
Mongolia has a natural environment, but in which circulate many herds, that's why making sure that the water we use for cooking and drinking is safe is essential!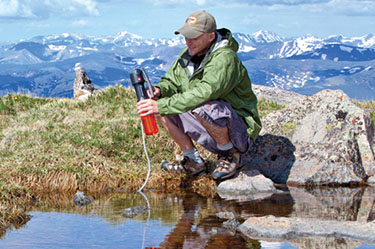 Filter pump for potable water
For each trip, we provide a manual filter pump water (Swiss brand Katadyn, the world reference in water purification).
This pump has three levels of filtration : a high performance fiber glass filter, a ceramic prefilter which can be used individually depending on the turbidity of the water and activated carbon to remove odors. 
In addition to these three levels of filtration, we also use  Micropur Forte pills to eliminate viruses and bacteria in 30 minutes.The potability of the water you use and which is used for cooking is guaranteed.

Moreover, some of the food is placed under vacuum before departure in order to optimize its conservation during the trip.